The Confident Tarot Reader
7 Steps to Becoming a Confident Tarot Reader
Learn to INTUITIVELY Read THE TAROT without mental blocks getting in your way!
with The Confident Tarot Reader Course
Do You Want To Read Tarot Like an Expert but..
You don't know how to learn all of those card meanings?
You struggle to read the cards when they are together in a spread?
You feel confused by all of the keywords and interpretations?
You're afraid of reading for others in case you get it wrong?
You want to go beyond looking up the meanings in a book, but you don't know how?
You need guidance to overcome the mental blocks that are stopping your intuition?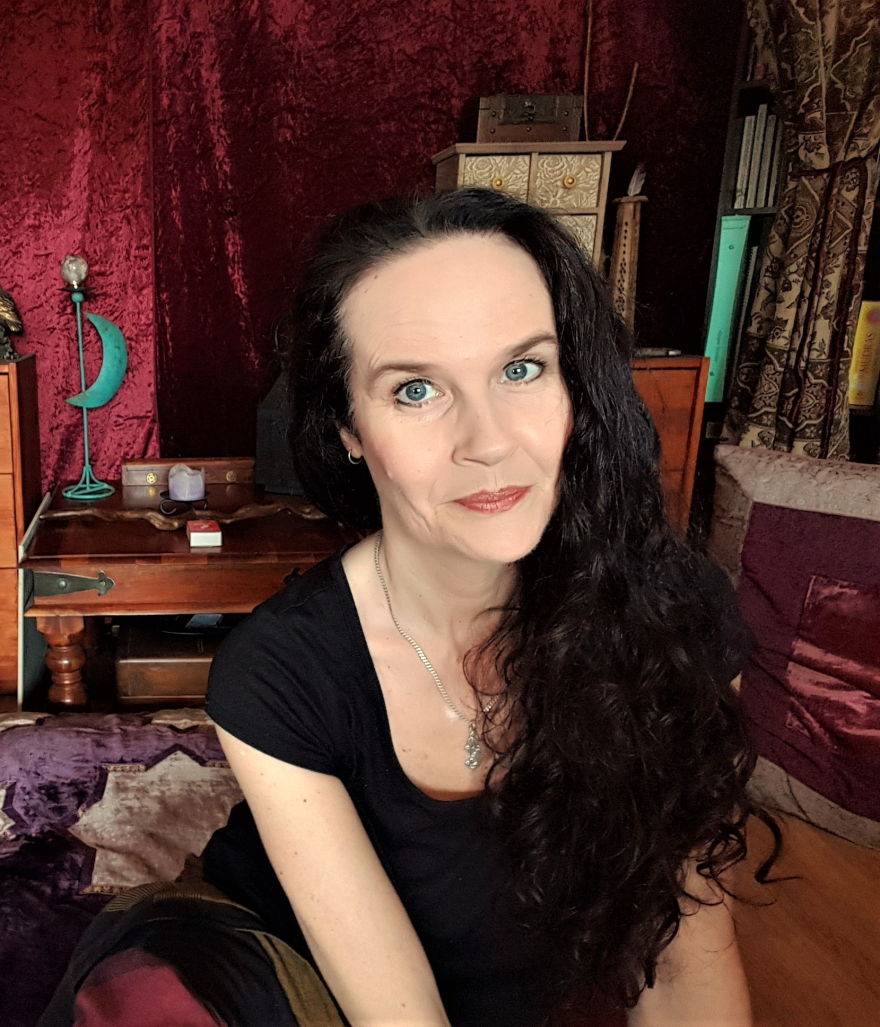 Hi, I'm Sandra Inman and empowering talented people to connect to their deepest spiritual essence is my passion.
I've been practising Wicca for almost 30 years and during this time I've studied and professionally read the tarot for myself and others.
I've had so many tarot enthusiasts ask me, "How do I learn to read the tarot with confidence?" and "How can I give a tarot reading using my intuition?" So, I decided that the time has finally come to put all of my knowledge and experience into an easy step-by-step course that caters for new and intermediate tarot readers.
This way you don't have to waste precious time trying to figure it all out on your own.
I want to teach you how to confidently read tarot for yourself and others using your tarot knowledge and intuition.
A lot of newcomers to tarot never get to experience the amazing feeling of connecting with their cards and confidently giving a reading.
You see when it comes to learning the tarot...
Most of them are trying to learn various card meanings, memorise 100s of spreads and block their intuition by worrying about getting it all wrong.
They start by ...
Trying to choose a tarot deck out of thousands of decks.
Painstakingly memorise all 78 card meanings.
Buying lots of books that contain even more information about the meanings.
Trying a few spreads without knowing how to interpret the cards when they are together.
Asking the cards the wrong type of questions.
There are so many books written about the tarot that many people become overwhelmed, confused and stuck.
Most books focus on the meanings of the cards but don't help a lot with teaching you how to interpret the cards when they appear together in a reading.
Many books include a couple of common tarot spreads like the Celtic Cross but don't give you guidance on how the positions actually relate to each other.
Plus the internet is full of tarot card sites that also focus on the individual meanings of the cards.
It's no wonder many people are feeling so overwhelmed that they get stuck and end up with an impressive collection of tarot decks that sadly end up gathering dust on the bookshelf.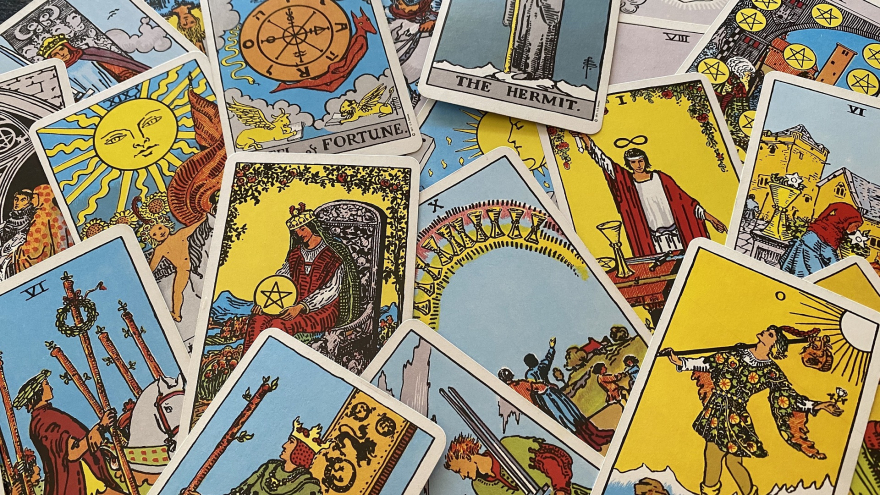 Develop such a deep connection with your cards that you ...
Feel so connected to your cards that you don't have to think about their meaning
Create your own tarot book with meanings and tips that YOU resonate with
No longer need to look for the "right" spread for a question
Easily give successful readings for others as well as for yourself
Intuitively fit the meanings of the cards together in a reading
Know the best questions to ask and how to formulate them for the best results
How Combining Tarot Symbolism, Guided Meditations and Storytelling Totally Changed How I Read the Tarot
About 30 years ago, I was just like most people...
I collected many tarot decks, and many books and practised with lots of different spreads.
Until I finally got sick and tired of having mental blocks whenever I tried to understand what the cards were trying to tell me in a reading.
I used to get so overwhelmed with the court card meanings that I would totally shut down my intuition whenever they came up.
I discovered that while some cards were easy to connect to many were not.
Plus, I would fumble with phrasing my questions and then try to interpret the cards in a way that made sense.
I ended up buying more and more books which only confused me more and more.
So, I finally realised that I needed to approach learning the cards from a very different angle.
You see, the tarot cards are an interface between ourselves and our higher knowing or intuition.
This means that we have to learn the cards in a way that speaks to our subconscious mind and not to our rational intellect.
Over many years I've applied guided meditation, esoteric knowledge and storytelling to my tarot studies and it has paid off BIG TIME.
Once upon a time, I would never have considered reading tarot for people. Now I do it as a part of my coaching business.
I know so many people who have had the same trouble with learning and reading the tarot as I had.
So, after a lot of consideration, I decided to share my learning module with others.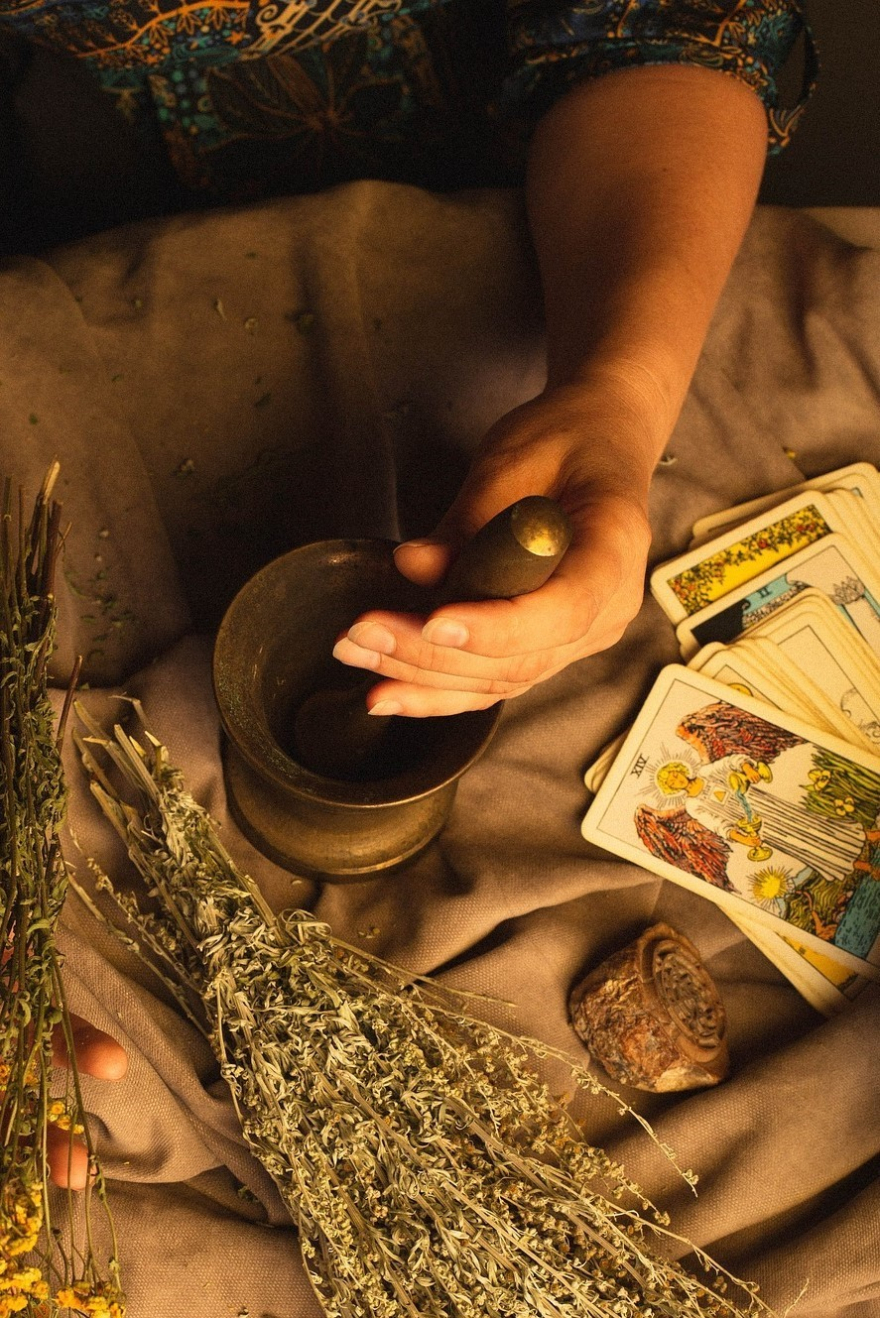 That's when I created the Confident Tarot Reader.
I wanted to create a practical course that goes above and beyond the common way that tarot is taught.
Why?.... Because the tarot is as much an inner journey as it is a divination tool.
Throughout my 30 years of tarot experience, I realised that tarot is more than a sideshow gimmick or a means of telling the future. It's a deep dive into the human collective subconscious. This means that the tarot can also provide you with a deeper understanding of yourself and others.
In other words, the tarot can give you guidance about options and possible outcomes.
Most tarot courses don't teach this.
What I've created is a complete tarot reading course where over 7 lessons I take you by the hand and lead you step-by-step through easy activities that help you learn and connect to your tarot cards so that you can read them without having to think about what they mean.
Now Let me ask you a question...
What If You Could Feel Confident, Connected and Inspired Whenever You Read the Tarot Cards?
What would your experience be like?
More self-confidence when reading for yourself or others

Access a great source of guidance whenever you need it

Improve your intuition

Create an alternative source of income.

The opportunity to help people and be of service to the world
The possibilities are endless!
Introducing The Confident Tarot Reader
Here are the 3 key elements that make reading tarot easy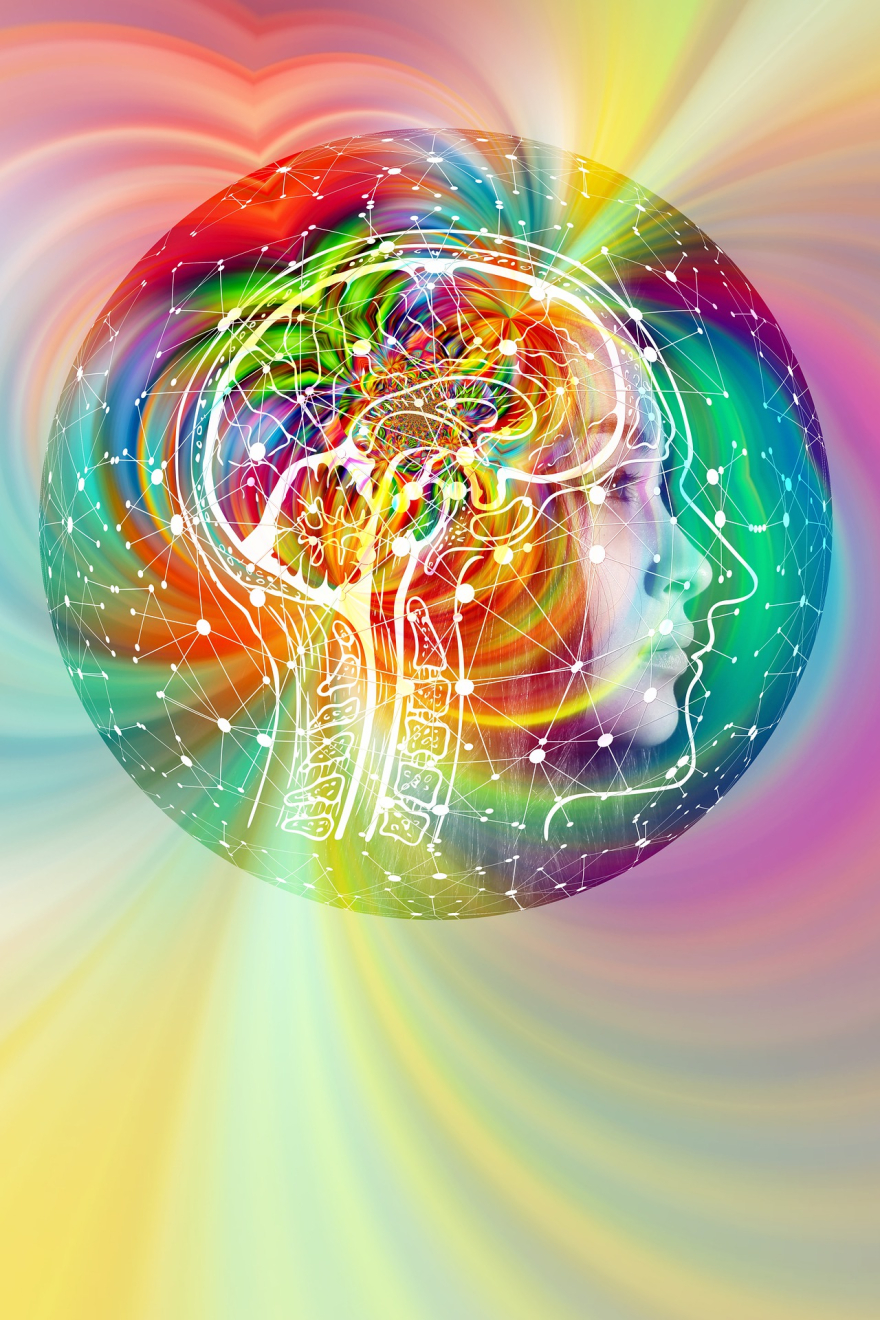 1. Intuition
The most common way that tarot is taught is to memorise the meanings of each of the 78 cards. While this is important to do it's not the best way to approach learning the cards.
The tarot is a symbolic interface between your subconscious mind and the problem or questions that either you or your client is asking. They are designed to stimulate your connection to your intuition and higher guidance.
When you learn the cards by first connecting to how you feel and resonate with the pictures you are immediately accessing your subconscious mind and opening the door to your intuition.
Many people struggle to access their intuition because the rational mind gets in the way. When you learn the tarot intuitively first you are bypassing the rational mind and immediately allowing your intuition to guide you.
I'm going to teach you how to begin learning the tarot using your intuition through guided meditations, storytelling and basic spreads.
2. Knowledge
While approaching the tarot intuitively is the best way to begin to learn the tarot knowing the card's meanings and symbolism will add to your confidence and expertise.
The tarot has developed over centuries and incorporates astrological, psychological and spiritual imagery. It's important to understand the traditional meanings and esoteric associations of each of the cards.
The more you know about the symbols and meanings the better your readings will be.
In this course, you'll learn how to combine your intuition with the traditional meanings and symbols of each card.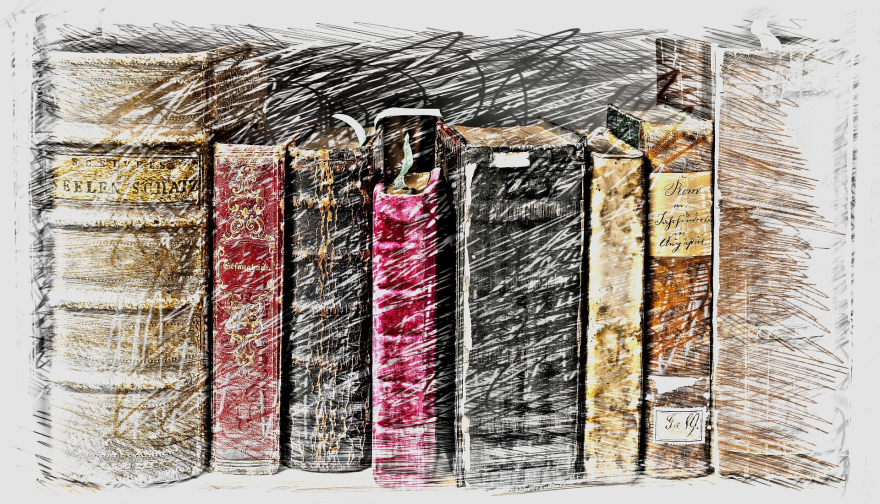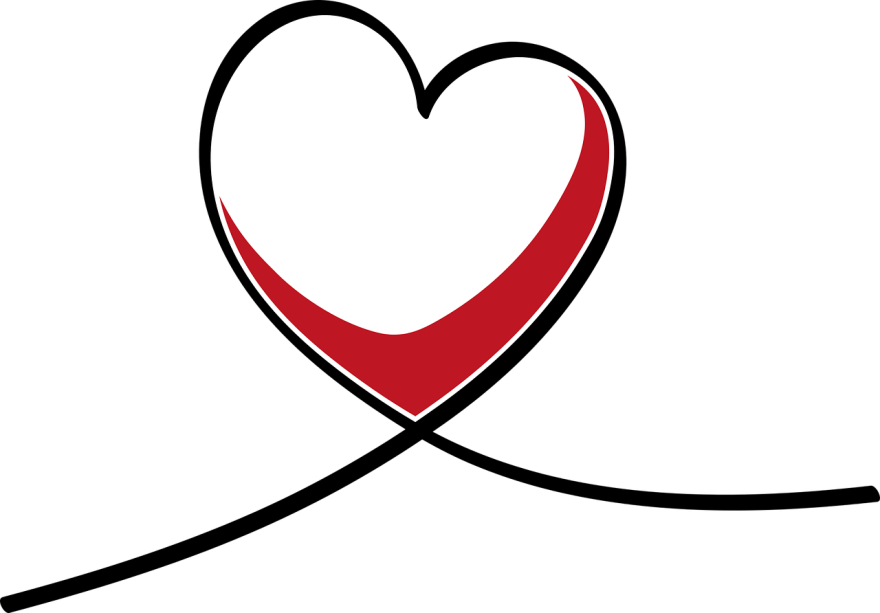 3. Heart-Centred Readings
As you combine your intuition with your knowledge of the cards you will begin to develop a heartfelt relationship with them.
Your cards will begin to speak to you subconsciously so you can relax and connect to the person you're reading for.
Even if you're only reading the tarot for yourself, you'll begin to experience the insight that each reading can give you regarding your situation.
The more of these heart-centred readings you do for yourself and/or others the more confident you will become.
I will teach you how to connect to the flow of a spread so that you can relax, open your heart centre and feel into the story the cards are revealing.
3 Reasons Why Combining Intuition, Knowledge and Heart-Centred Readings Makes You a Confident Tarot Reader
1. You Can Avoid Mental Blockages
No more mental blocks when you try to read for yourself or another.
Learning tarot by playfully exploring the images on the cards before you focus on memorising the meanings will cause you to override your rational mind right from the get-go.
Once you create your own meanings from the cards you're already most of the way there.
Right from the beginning of the course, you will be creating your own tarot book, your way with your language concerning the cards.
2. You'll Have A Selection of fun ways to learn to read the cards
This course has everything worked out for you. All you need to do is tap into your own creativity and imagination.
You'll be learning how to creatively play with your cards, creating stories that will help you learn more and more about each card with each reading that you do.
Everything you need to know to help you give intuitive and knowledgeable readings is contained in this course.
3. You'll Develop a Deeper Relationship With Your Cards
The Confident Tarot Reader has 7 modules containing over 14 hours of lessons.
Each module covers a specific aspect of the tarot and tarot reading necessary to confidently read the tarot for yourself or another.
The modules are designed to help you learn the cards intuitively and traditionally. You will learn how to read the individual cards when they are in a reading. You will also learn how to phrase the right questions.
You'll also discover what type of tarot reader you are so if you choose to become a reader professionally you'll be one step ahead of the game.
Plus...
You Get To Ask Me For Help And Guidance Along The Way
You don't have to figure things out for yourself. I'll be available to help you when you get stuck via Question and Answer Forms included in your course membership website.
You'll have the benefit of my experience to help you navigate your way through any blocks or doubts along the way.
You'll Be A Part Of A Community Of Like-Minded People On The Exact Same Journey As Yourself
When you enrol in The Confident Tarot Reader, you'll immediately be invited into the Mystery Witch School Academy Facebook group where you get to share posts and meet like-minded people.
Here Are The 3 Most Frequently Asked Questions - Answered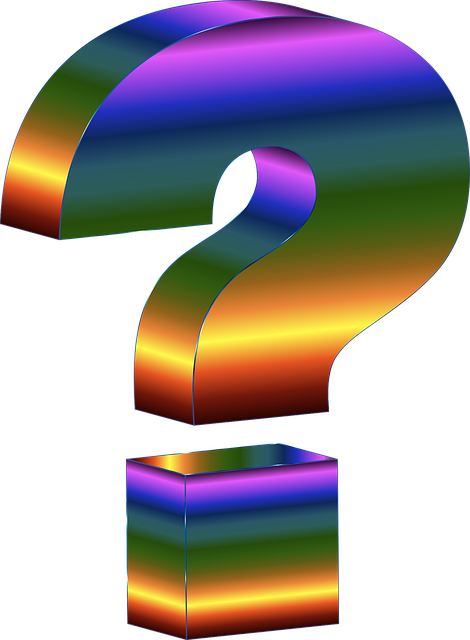 Question 1: How Much Time Does It Take To Work Through Each Module?
The course is entirely self-paced so you can take as long as you like to complete the course.
I do recommend that you take a least 1 to 2 weeks to work through each individual module so that you can practise the spreads and get to know your cards.
Question 2: What If I Can't Get Through All Of The Exercises in Two Weeks?
This is easy – you go at a pace that suits you.
Of course, you can take longer to work on each module but I urge you to spend at least 5 minutes a day with at least one card or practising the 3 card storytelling card spread.
Once you've fully paid for the course, it's yours to keep. You will have access to all of the replays and materials on the Confident Tarot Course website. This means that you can take 14 weeks or longer to complete the course.
Question 3: I've Never Done Tarot Before, Will I be Able to Keep Up?
Absolutely!
I will guide you through the lessons and activities and show you how you can learn and read the tarot even if you've never looked at a tarot pack in your life.
I've organised the lessons and modules in a way that teaches you more and more about how you can get the most out of your tarot cards.
You also have me to help you along the way.
Question 4: Will I Get a Certificate of Completion at The End of The Course?
Once you complete the course and have fulfilled the requirements you may request a downloadable Certificate of Completion.

What is the Confident Tarot Reader & What Do You Get From It?
Well, I'm glad you asked…
The Confident Tarot Reader is a complete step-by-step experience
...To teach you how to learn and intuitively read tarot like an expert.
I've used these techniques to teach myself tarot.
You can do this now and start reading tarot right NOW!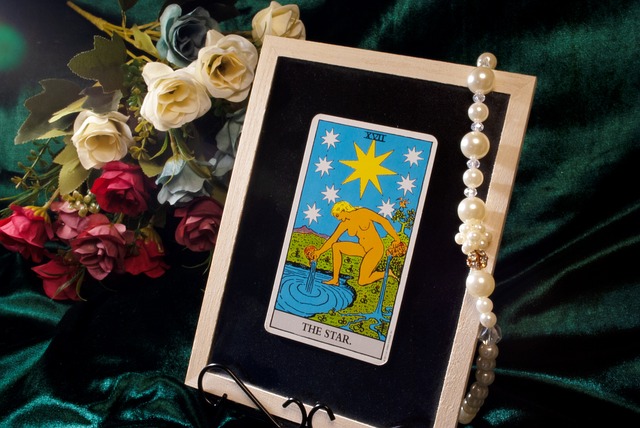 3 Essential Ingredients You Need to Learn and Read Tarot Like an Expert
…
1. A Tried and Tested Step-by-Step System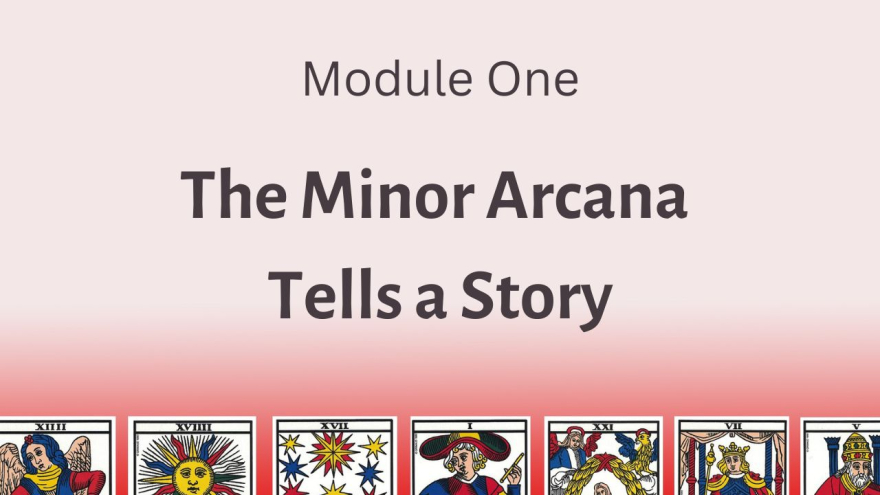 Module 1 – The Minor Arcana Tells a Story
A brief introduction to the four elements - Fire, Water, Air and Earth

Story Telling with the Minor Arcana Cards

The Role of Numerology in the Tarot

Learning the 5 card story spread
Module 2 – The Four Elements and the Court Cards
The Four Elements in more depth

How to cleanse and consecrate your cards

Easy method for learning the court cards

The Four Worlds of Manifestation and the Tarot Court

Connect with your inner tarot reader

Daily 5-card tarot pull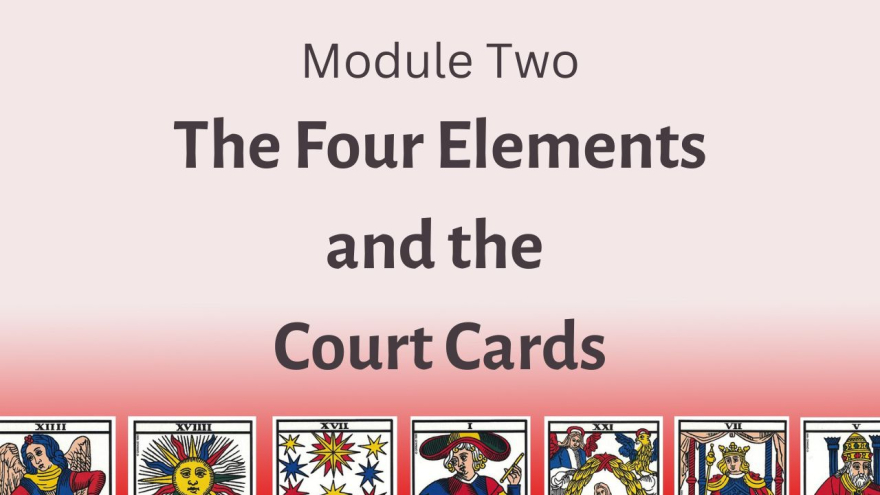 Module 3 – The Major Arcana - Your Journey Through Life
Four levels of tarot interpretation

The Major Arcana and the 3 Layers of Meaning

The Fools Journey through the First Major Arcana level

Various ways to cut a tarot deck

Daily tarot pull using the 3 layers of meaning
Module 4 – The Major Arcana and the Art of Telling Stories
The Fool's Journey through the Second Major Arcana level

Your story and your search for Self

Completing the 5 card Story Spread

Who am I activity using the Major Arcana

How you should shuffle your deck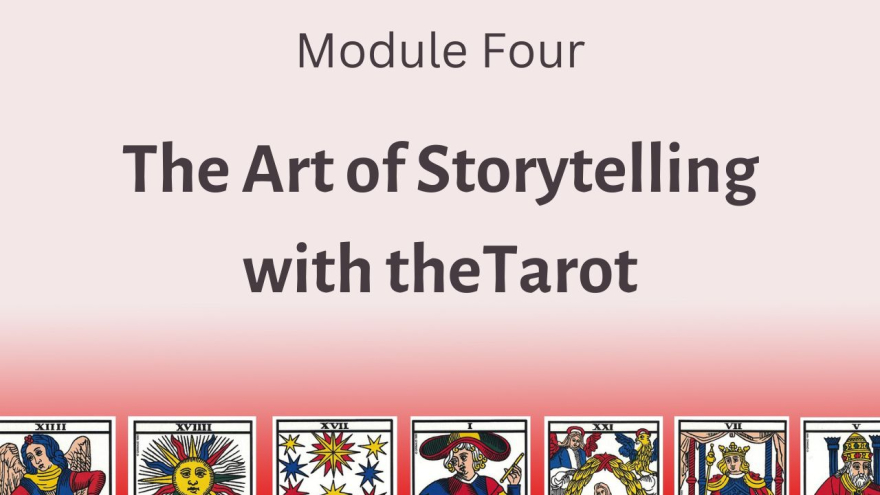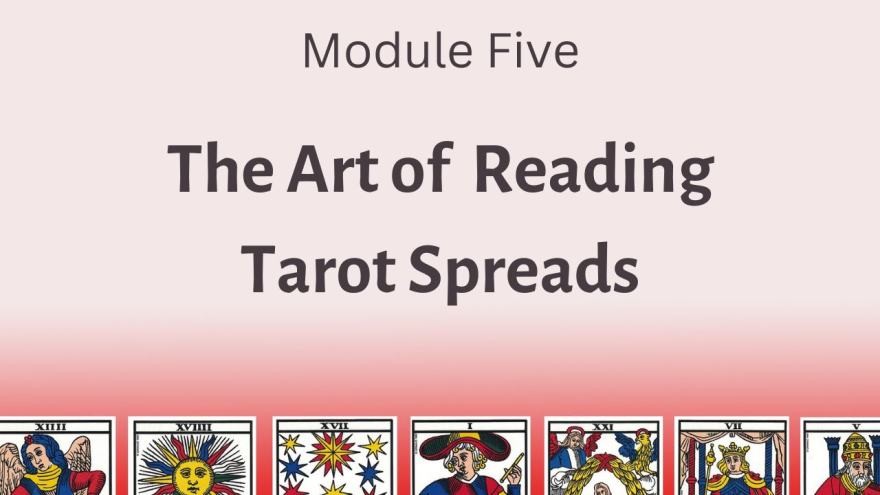 Module 5 – The Major Arcana and the Art of Reading Tarot Spreads
The Fool's Journey through the Third Major Arcana level

Learn 6 ways to read 3 card spreads

How to create targeted tarot questions to get the best results from a reading

Find at least 3 people to read for and write up a summary of the reading
Module 6 – How to Read the Celtic Cross Spread
The different ways to work with the Celtic Cross spread

How to interpret card relationships within the Celtic Cross spread using the 6-step method

Practise reading the tarot using the 6-step method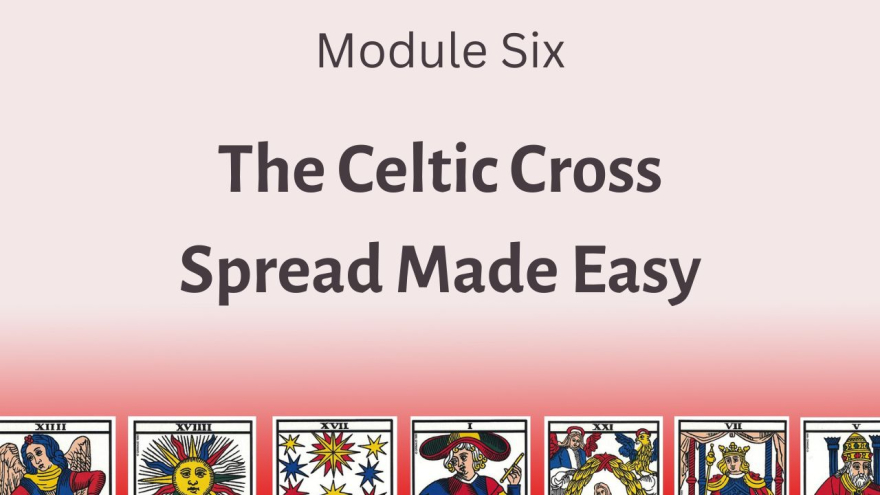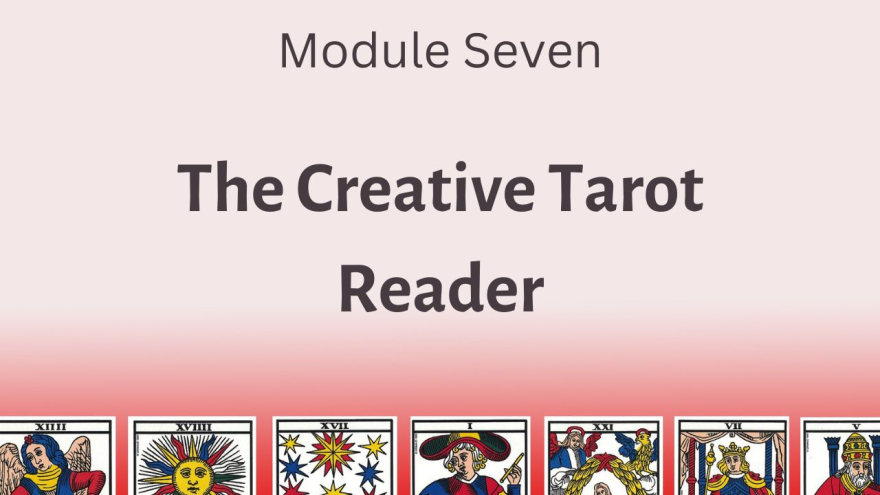 Module 7 – Tarot Reading Ethics, Style and Building Confidence
How to read 2 or more cards within one position

Ethical considerations when reading for other people

What style of tarot reader are you?

The Minor Arcana and the Tree of Life

Creating your own spreads
I created this entire program myself based on the same steps and strategies I've used for myself and others so that you can feel unshakable confidence when reading the tarot.
2. Tools And Examples
You'll also get all the secret tools & resources I've personally used in my learning and practice of the tarot.
Everything from...
Journalling exercises to help you deep-dive into the card meanings, readings and personal experiences
Guided meditations to help you ground and connect to the cards and their stories
PDF copies of all educational slide shows and supporting materials
Access to the original Zoom lessons
Get all the tools & resources you'll need in order to learn and read the tarot with ease.
I have gathered these tools over the last 20+ years and today I'll just hand them to you on a silver platter. You'll also get a full walkthrough and breakdown of how to use all these tools in order to get the absolute best out of them.
You'll see me put these tools into action so you know exactly how to do it.
3. You Get To Ask Me For Help And Guidance Along The Way
You don't have to figure things out for yourself. I'll be available to help you when you get stuck via question forms at the end of each lesson.
Plus... you can email me all of the awesome discoveries that you have made too.
You'll have the benefit of my experience to help you on your journey so you don't have to go reinventing the wheel and making mistakes you don't need to make.
4. Join A Community Of Like-Minded People
It's not just about information…
But you'll also have access to a group of like-minded students on the same journey as you. People who are taking the tarot journey and discovering their inner tarot reader just like you.
You can lean on them and ask questions whenever you feel stuck by joining the Mystery Witch School 101 Academy Facebook Group.
Bonus
Learn the Tarot Card Meanings with Ease
When you sign up for the Confident Tarot Reader you'll actually be receiving two courses!
This mini-course takes you on a journey through all 78 cards, their symbols, meanings and astrological correspondences.
Plus you'll also receive two guided meditations that take you on a journey through each card and fine-tune your intuition.
It's actually the perfect companion to The Confident Tarot Reader.
Now, you can get started straight away!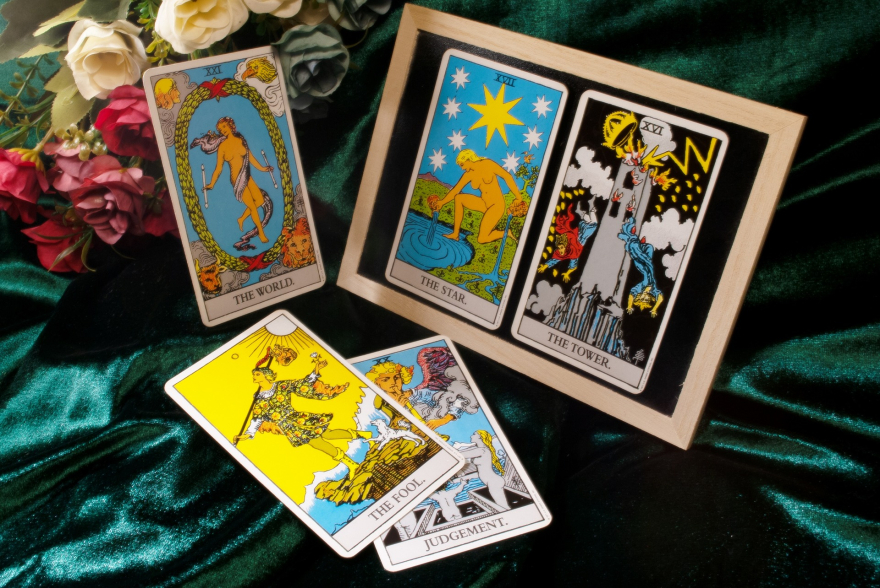 This is Tarot Reading made easy and the best thing is, you don't have to do this all alone you'll have me and the Confident Tarot Reader community to help you every step of the way.
One Payment of $347 Or 4 Easy Payments of $97
So click the button below and fill out your information on the next page:
Pay in Full for $347 (Save $41)

Or
4 Monthly Payments of $97 (Total Amount of $388)
* Prices are in AUD - To calculate the prices in USD or your own currency please click HERE
Terms and Conditions Disclaimer