Ultimate Guide To Starting a Wiccan Practice That Works
5 Days to a Wiccan Practice That Works!
Easy Online Video Course
Do you want to start a Wiccan practice but don't know where to begin?
Are you feeling frustrated, stuck and unsure of what to do even though you've spent hours reading and googling through all of the information out there?
Do you hesitate to create a daily practice because you feel you don't have enough time or the right tools?
What if you had a roadmap and someone to take you by the hand and lead you step-by-step through a simple daily practice that you can do in under 15 minutes a day without the need of anything except yourself?
How would that make your spiritual development easier?
Over a 5 day period, I will take you step-by-step through a simple process you can do every day to get you started on the path of the witch.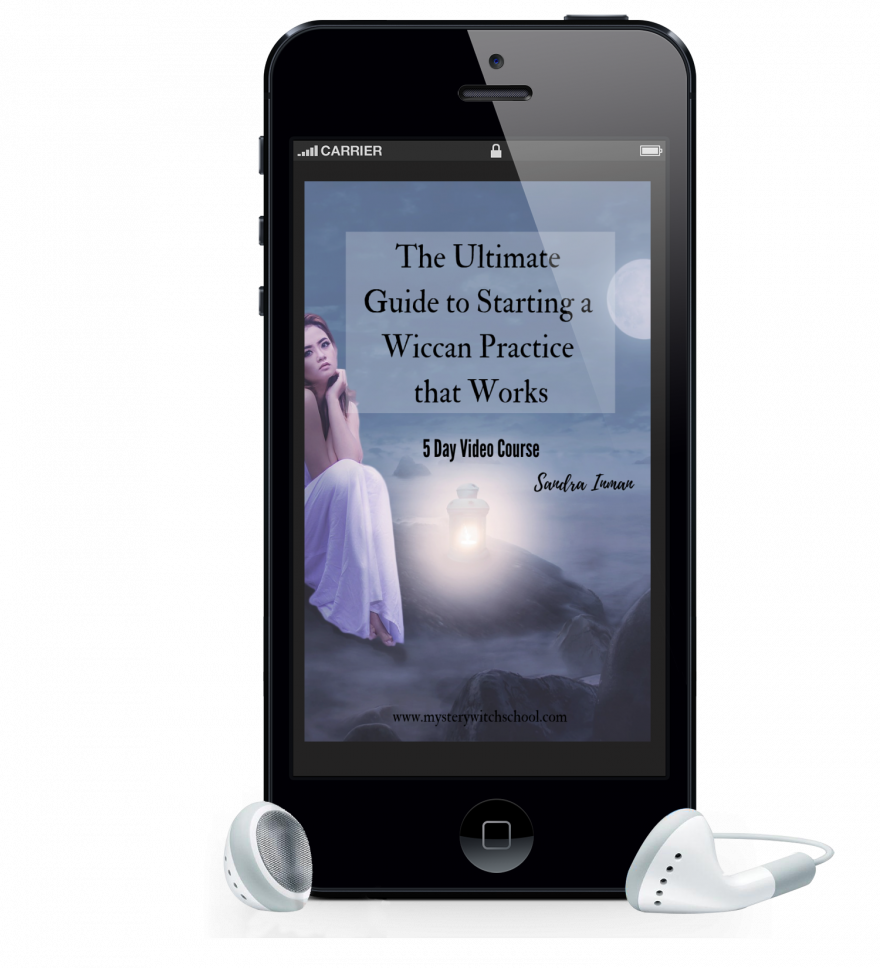 In this easy 5-step video series I show you how to craft your Wicca practice, in 15 minutes a day, so you can confidently start your personal magical and spiritual journey.
If you're not sure where to start with witchcraft or feel afraid you might not get it right, then this step-by-step video series is for you.
It's drawn from my 28 years of Wiccan practice and weaves together the rituals used successfully by witches, Sufis and various mystical traditions for centuries.
This is the step-by-step guide you've been looking for to help you create a safe, sacred ritual space so you can manifest the life you want to live.
The Ultimate Guide works even if you have little spare time or have trouble meditating or visualizing outcomes. It will help you safely step into your magickal self.
I take you by the hand and walk you easily through the practices that have helped me create a successful relationship, successful businesses and to feel more focused and grounded in my life.
Available now for only $15 this guide includes rituals and guidance over a 5-day series delivered to you via your private online membership portal.
At the end of 5 days, you will finally have a simple and effective daily practice that will give you confidence in your ability to practice the craft and expand that confidence into your daily life, career, and relationships.
"I'm up to day 2 of Sandra's program and it is wonderful. Thank you Sandra for this no-nonsense and easy to follow program. It has been a joy so far x" Emma J
Life is too short to keep stalling because you don't know how to what to do next or you're afraid of doing it all wrong.
I look forward to accompanying you on your magical path and am here to support you in love and light.
Tap into the magick!
Terms and Conditions Disclaimer